Sointula Greens Mountain Farm Retreat is situated just 3-1/2 hours north of Vancouver, B.C. Located in the beautiful Fraser Canyon, this rustic 70-acre organic farm has year-round access for harried citydwellers needing to "get away from it all." Choose your perfect vacation: farm chores, meditative mountain walks, hiking, star-gazing, trail-riding, river-rafting or spiritual retreat. There's something for everyone. Enjoy clean mountain air, incredible night skies, breathtaking scenery.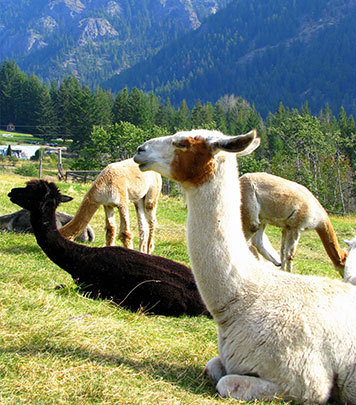 Interested in a working farm vacation, quiet spiritual retreat or adventure-laden mountain holiday? We've got it all!!
Imagine leaving behind the heat, the noise and the rushed pace of the city for a quiet mountain farm retreat. After driving through the desert temperatures of Lytton, B.C., you appreciate the cooling air as you ascend into the Botanic Valley.
Leaving behind dry sage brush and scorched earth, you climb first into scented pine forest and then into the tranquil beauty of lush fir. Beyond Sointula Greens, as the road continues to climb and the valley narrows, the forest changes to spruce, hemlock, and balsam.
A few kilometers from town, you cross into Native Indian land. Before you now stretches a Monet landscape, a glorious panorama of red, yellow and purple alpine flowers.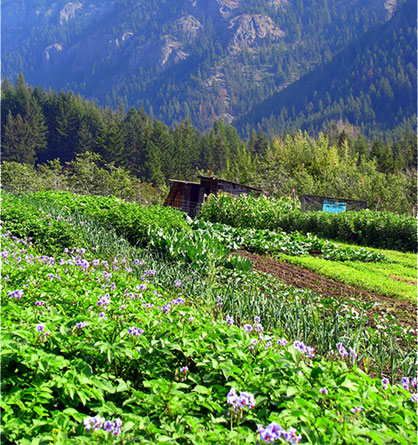 Your first peek at Sointula Greens is framed through old, abandoned farm machinery. A dog will likely saunter out to meet you, tail wagging in welcome.
Soon the quaint cabins of Sointula Greens come into view. As you park your car under the tall firs, you look south down the valley. Through the shining clean air, you can see the majestic Coastal Range in the west and the Washington Cascades in the east. With a deep sigh of pleasure, you bring your glance back and take in the rustic cabins, treed acres and natural pastures of Sointula Greens. Alpaca graze in front of the cabins. Not far away, a Maremma Sheepdog watches over the animals. Already your heart feels light, your spirit free and your mind calm and clear.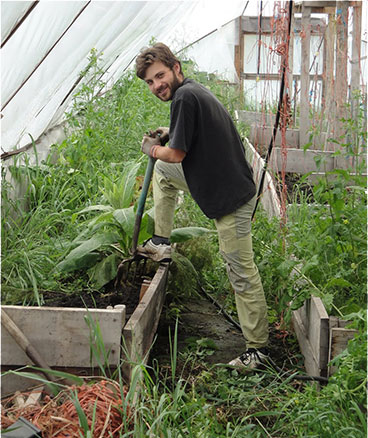 The Hobbit House nestled among the tall trees is yours for a few nights. Tomorrow you might meditate quietly in the alpine meadow or celebrate your freedom by going on a gentle hike. You might lend a welcomed hand with farm chores or gardening. You might even go on a wild river rafting tour. Whatever activity you choose, it's far, far from the stresses of your everyday life.
All kinds of excitement, fun and adventure await you on this real, working farm...
And when the stars come out at night, you'll think you can reach up and touch them. In the city you'll never see anything like the night sky at Sointula Greens Mountain Farm Retreat...